What essential tools do all literacy leaders need?
Effective literacy leaders involve educators in processes of continuous improvement. They need practical tools for creating a culture of shared leadership, for establishing a common vision for teaching and learning, and for reflecting on student success.

Leading for Literacyis jam-packed with more than 30 practical tools that will help to inform decisions about assessment, curriculum, instruction, intervention, and professional learning. Here are 5 tools, all found in the professional book,Leading for Literacy, that we think are essential for leadership:


1. Reflecting on Your School Culture
An inclusive culture of shared leadership and trust is the bedrock for growing a vital, healthy school community. This tool offers all members of the community a chance to share their perspective on evidence of coherence and commitment, data-informed decision making, collaboration and collegiality, and cultural proficiency within the school. Use it to think about and evaluate the culture that currently exists and determine next steps for making it stronger.


2. Lesson Observation Tools
Observation tools (also known as "look-for tools") help you notice and reflect on what you see in the classroom everyday—from the physical space in classrooms, to teacher talk, to each instructional context. These tools offer an important opportunity for collaboration and professional learning. They are a starting point for reflection that can be modified as your collective vision for teaching and learning is sharpened. Use the observation tools before the lesson, during the lesson, and after the lesson to support discussions about teaching and learning.

3. Developing an Effective Design for Literacy Assessment
评估和数据收集是一个关键部分of creating equitable communities of learning. How, what, and when we assess matters greatly. Designing or refreshing a literacy assessment system that aligns with your values and goals is no small task. This tool brings together a team of stakeholders that have knowledge of the literacy assessments used at your school to determine their strengths, their alignment to shared values and goals, and their gaps. This protocol tool will help you and your team work through the process efficiently and productively.

4. Developing an Effective Design for Literacy Intervention
An effective design for assessment will inform your design for intervention. This tool will bring together a diverse team to inventory and evaluate the current interventions being implemented to understand more about how effectively they are meeting the needs of students. Use it to help you and your team move through a process for analyzing the supports currently in place and areas that need to be strengthened to achieve equity for students.

5. Literacy Improvement Facilitation Tool (LIFT)
This comprehensive tool brings together many of the important ideas inLeading for Literacywith the goal of helping you and your school team make plans for moving toward a coherent and sustainable system for literacy improvement. While this interactive rubric is designed to help school-based teams reflect on the qualities, strengths, and needs of the school, many aspects have important implications for district leaders.

These five tools, along with the dozens of others inLeading for Literacy, are essential for taking on a thinking, noticing, and reflective leadership stance that will guide your community towards continuous improvement in teacher expertise and positive outcomes for all students.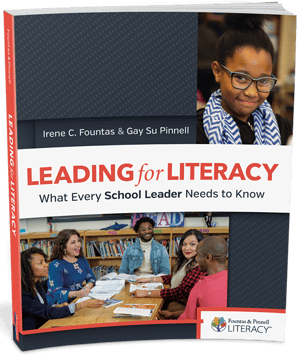 To learn more aboutLeading for LiteracyvisitHeienmann.com.

Learn more about this upcoming workshop atHeienemann.com.