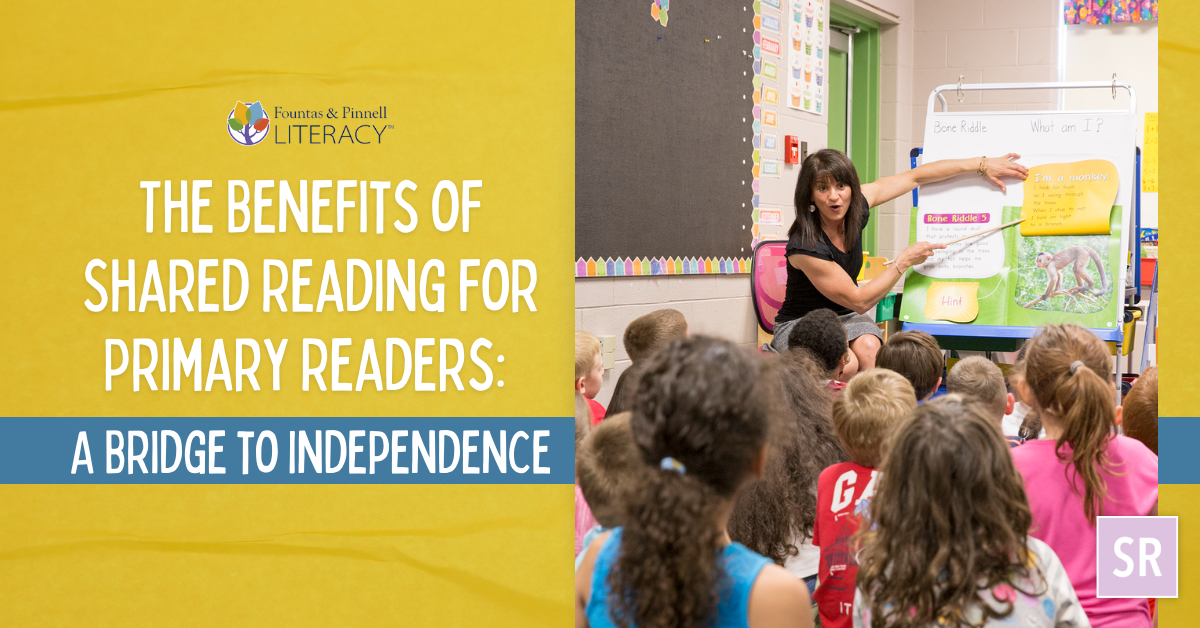 We rely on bridges for safe passage. We start in a familiar, comfortable place, where we are sure of our footing. Bridges connect the place we have been to the places we want to go. Their support allows us to travel where we once could not or in a way that is less daunting.

Think ofshared reading作为年轻读者的桥梁。在共享reading, the teacher and children read aloud an engaging enlarged text that is beyond children's ability to read independently. After the first reading, children take part in multiple, subsequent readings of the text. The experience of reading an enlarged text together – supported and held in community – has the potential to move children from one place on their reading journey to the next.

Shared reading connects home to the classroom.
Before entering school, children's experiences with reading often take place in a caregiver's lap or when they are tucked under the covers at bedtime. Their proximity to the book allows them to examine the illustrations in detail, turn the pages, and explore the squiggles that they will one day recognize as words. We also know that some children do not have these opportunities at home.

As children gather around the "big books" used in shared reading, the warm and inviting, up close and personal home experience is evoked and lovingly approximated for all children in the classroom. Shared reading sends a message to children that reading is a feel-good experience that strengthens connections between people.


Shared Reading connects play and work.
Children are experts at play. Play allows them to develop agency and confidence. It allows them to deeply explore the things that thrill and fascinate them without any real risk. Cooperative play with siblings and friends allows children to learn from each other, negotiate, and solve problems together.

While parts of the school experience might contrast with the low-stakes, collaborative nature of play, shared reading joyfully leverages the power of social support and fun. During shared reading, the teacher intentionally guides playful participation in the reading process. Students' existing competencies stretch as the teacher scaffolds the hard work of trying out unfamiliar genres and text types, new vocabulary, and strategies for problem solving through text.

Shared reading books are designed to captivate minds with engaging illustrations and photographs, poetic language, and irresistible features such as cut-outs, flaps, or pop-ups and bring readers back to the text again and again. These characteristics/features of shared reading bring forth play and joy, all the while children are working to expand their reading process. The playful nature of the experience makes the challenge of the work exciting.


Shared reading connects language with print.
Most young children enter school with a deep understanding of how oral language works that they have built for themselves since birth. They know that language is meaningful: it's how they share messages, ask and answer questions, and learn about and explain the world around them. They have internalized "rules" about how language works.

Shared reading helps young readers understand the relationship between oral language and print. They begin to see that, like talk, print language also has a set of rules – look left to right and top to bottom, use a return sweep, each spoken word is represented on the page, etc. Like talk, print also holds a very specific message: writers use letters and spacing to make words so that they can share ideas. With the support of their teacher and community, shared reading provides a space to explore the myriad connection between what is spoken, written, and read.


Shared reading connects community support to independence.
As one of the five contexts for reading that Fountas and Pinnell recommend as part of a multi-text approach to responsive teaching, shared reading allows readers to successfully step up into more challenging texts together. All children build confidence as they build competencies, including English learners and those who find literacy learning difficult.

As their teacher invites them into the reading process with support from the group, children begin to understand that they can take on the learning from this instructional context and apply it to their own reading. They gain independence as readers as they build understandings together about print concepts, letters, sounds, words, genre, book and academic language, vocabulary, fluency and comprehending.

Crossing the bridge from support to independence is the goal of all reading instruction.With the right texts and the guidance of a responsive teacher, shared reading helps children traverse whatever reading terrain lies ahead with experience, confidence, and joy.
• • •
There's more to learn about Shared Reading!